Wedding Planner
... and they lived happily ever after
Once upon a time, behind many mountains, somewhere between the oceans, a boy and a girl looked into each other's eyes differently than they looked into anyone else's... That is how a certain passionate love began, and they wanted to be with each other forever. They wanted to get married. A fairy tale type wedding.
It is precisely for such exceptional couples who have their wedding dreams that we create unique celebrations. With great attention to detail, with passion and commitment, we create moments that will always be a great memory for you. Are you planning a Polish or international wedding? Exclusive or simple? Tell us what is most important to you. We will turn your dreams into the most beautiful memories.
A few words about us
When I founded GLAMOUR EVENT 10 years ago, I did not even expect how many challenges awaited me. Neither the Young Couples nor the service providers were ready for such a revolution, which is cooperation with someone who has a vision of creating unique, carefully prepared marriages and weddings. So I tread new grounds, changing the approach to wedding organization for years. Today, wedding ceremonies look completely different, and I can proudly summarize these 10 years, saying it was worth it. My work and my team's work requires a lot of effort, mindfulness, organizational skills and many other competences. However, there is no greater satisfaction for me than the one that comes with the confidence that it is the source of the Young Couple's pure joy.
Karolina Ostachowicz
Let's get to know each other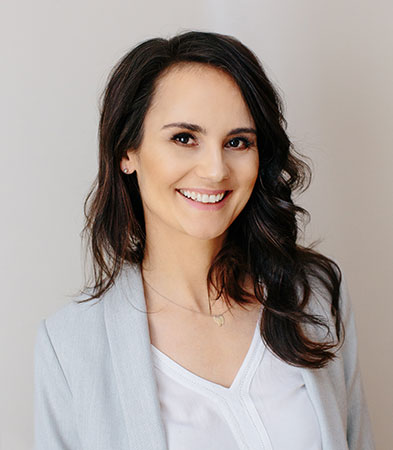 Karolina Ostachowicz
I am the originator and founder of the GLAMOUR EVENT Wedding Planners agency, the OrganizujemySlub.pl agency, SlubSymboliczny.com.pl and the initiator of the SesjeStylizowane.pl creative agency. I am a member of the elite Polish Association of Wedding Consultants, associating the best wedding agencies from all over the country.
As the founder and coach of the GLAMOUR EVENT Academy (entered into the Register of Training Institutions - 2.24/00401/2017), I have been training new groups of wedding consultants and sharing my experience since 2017. Importantly, the training sessions have received the recommendation of the Polish Association of Wedding Consultants.
Many times, at the invitation of recognized media, I have had the honour to be an expert for wedding ceremonies and wedding parties. I was invited to, among others, Dzień dobry TVN, TVP Katowice, Polish Radio Kraków, Forbes Travel, etc.
I am a dreamer with my feet firmly fixed on the ground. I fell in love with organizing wedding ceremonies and wedding parties in 2000, when I had the opportunity to work on the organization of unusual wedding ceremonies in the United States. I love to tread new grounds and look for unconventional solutions. I often bend over backwards to realize the theoretically impossible. I am a yoga lover as it allows me to find balance, peace and mindfulness in an extremely demanding, multi-task and emotionally-charged job. I like to spend time actively, good photography and healthy cuisine.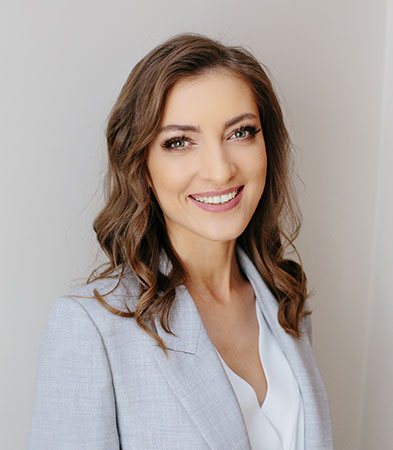 Milena Wocial
The sympathy for organization of weddings and events has matured in me for years. I create unique stylizations for the Young Couple that reflect the individual character of their ceremony. I am an excellent student, full of empathy and creative ideas. As a retailer and aesthete, I love classics and minimalism. I also feel well mixing styles. I am constantly hungry for experiments, with great desire for original stylizations. The profile on creating the image and all the training have awakened in me the ingenuity and inventiveness of creativity.
Travelling, getting to know new cultures and personality is something that inspires me immensely. I love narrow, atmospheric streets, French music and halva parfait! In my free time I choose yoga, theatre and good detective books.
Do you want to know more?
We love to personalize celebrations and events. It is our passion. We attach great importance to details, because it is thanks to them that a unique, harmonious whole is created.
We put all our hearts into what we do. We work effectively and at the same time discreetly. We will be your good advisers, suggesting proven solutions, but above all, best suited to your celebration, throughout our cooperation.
We have had the pleasure of being experts on wedding organization in the media such as Dzień Dobry TVN, TVP Katowice, Polskie Radio Kraków, as well as in Forbes Travel and Strefa Biznesu Dziennika Zachodniego.
Membership in the Polish Association of Wedding Consultants is an honour and commitment for us, confirming the highest quality of services we offer.
We have been organizing weddings since 2009, which makes us the most experienced wedding organization company in the Silesian Province. In that time (until 2018), we completed over 200 wedding and wedding ceremonies. We hope that you will soon join the group of couples who trusted us. Get to know their opinions about us.